CUSP London Research
Like its sibling in New York, CUSP London is an interdisciplinary research and graduate-level teaching centre that uses London as both lab and classroom. We bring together researchers, policy-makers, and professionals to tackle urban challenges in the belief that cross-cutting, collaborative work is the best way to deliver solutions with real-word impact: the close involvement of our government and private sector partners allows CUSP London to translate research into action.
Latest Research Collaborations
Interactive COVID-19 Timelines Visualisation
Compare City Crime Change Project MSc Urban Informatics student Raphael Canty had visualised the COVID-19 Timeline in London and Sydney using D3 for interactive information. This is part of the "Compare City Crime Change" project funded by King's Global Engagement Partnership Fund (2021), led by Dr Yijing Li.
Professor Mark Kleinman Chaired King's Experts Series: Cities of the Future on 26 Jan. 2021 Click Here for the Cities of the Future event.
CUSP London - MOPAC Data Dive Output published on GeoConnexion February Issue Covid and Crime in The Capital by Yijing Li See more from Here
Viewpoint Shrinking homes, COVID-19 and the challenge of Homeworking
Phil Hubbard, Jon Reades, Hendrik Walter
The Town Planning Review 92(1), 3-10 2021 See the article Here
Enhancing predictions of patient conveyance using emergency call handler free text notes for unconscious and fainting incidents reported to the London Ambulance Service
Liam Tollinton, Alexander M Metcalf, Sumithra Velupillai
International Journal of Medical Informatics - September 2020
Global City in a Global Pandemic: Assessing the ongoing impact of COVID-induced trends on London's economic sectors.
D.Anderson, R. Hesketh, M.Kleinman and J.Portes
QPE Working Paper 2020-13, Quantitative Political Economy Research Group, Department of Political Economy, King's College London, 2020. See article Here DOI: 10.31235/osf.io/7m286
Evolution of responses to the COVID-19 pandemic in the U.S.
D.Quercia, L. M. Aiello, K. Zhou, M. Constantinides, S. Scepanovic & S. Joglekar
Humanities and Social Sciences Communications (2021)
See Article Here Viz+Data Summary in this Twitter thread
The London Intelligence – London Economic Tracker
N.Bosetti, E.Belcher, D.Anderson, May 2020
See the article Here
The London Intelligence – London Economic Tracker
N.Bosetti, E.Belcher, D.Anderson, August 2020
See the article Here
CUSP London Urban Lab partnership wins Royal Geographical Society award for Excellence in Local Government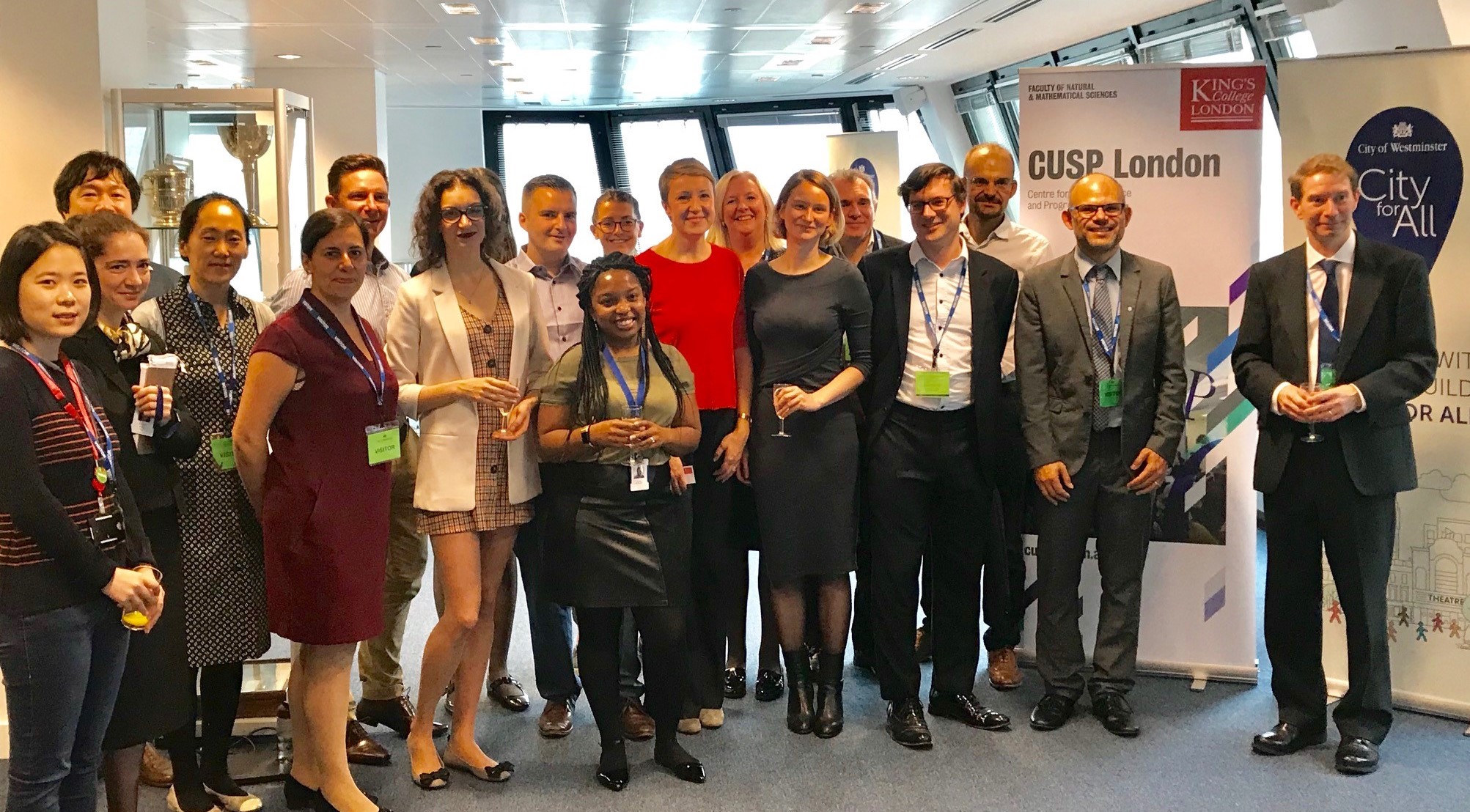 Group photo taken in 2018 at the official signing of the Statement of Intent between CUSP London and Westminster City Council.
The work of students and researchers at CUSP London in using data to improve Londoner's lives has won the 2020 Geography in Government Awards.
See more about the Award
Latest Research on COVID-19
Dr Yijing Li Research Paper: Health Resilience Against Pandemic Crisis Among European Countries.
Li Y. (2021) Health Resilience Among European Countries in the Face of Pandemic: Reflections on European Countries' Preparedness for COVID-19. In: Shaw SL., Sui D. (eds) Mapping COVID-19 in Space and Time. Human Dynamics in Smart Cities. Springer, Cham. https://doi.org/10.1007/978-3-030-72808-3_16.
The Intersection of Cities and COVID-19: What We Learned and What's Next?
Dylan Anderson
Housing 83% of the UK population, cities are integral to the lifeblood of the country's economy, societal norms, and cultural reputation. This was starkly apparent in the first half of this year when negative effect of COVID-19 on cities was being witnessed first-hand. As the country heads into the second national lockdown, are we beginning to see history repeat itself?
As the COVID pandemic began in March 2020, researchers around the globe were scrambling to better understand the virus and its potential impact on the economy and society. The Centre for Urban Science and Progress London (CUSP) focused more precisely, investigating these effects at a city level using London as a case study. As I finished my MA at King's College London (KCL), this opportunity to conduct this type of research during my internship was complementary to both my academic research and my greater career goals of using data and evidence-based statistics to deliver tangible policy outputs.
The main outputs during the summer were two pieces published with The KCL Policy Institute and the Centre for London, a London-focused Think Tank, titled the London Intelligence, which sought telling the story of London through data and evidence. In these publications we addressed key COVID questions that concerned the UK capital. For example, using data from MasterCard we found that retail spend had become increasingly localised in the outer residential zones, with Central London's retail economy suffering due to a lack of commuters or tourists. Other information from Transport for London explained the change in Londoner's commuting and transportation patterns, which showed an increase in automobile and bicycle use and a steep decline of public transportation travel. By bringing together data from academic researchers, businesses, and government organisations we were able to provide a more wholistic view of how urban cities were reacting to new COVID-induced restrictions and economic realities. As we move into the new lockdown, we will continue this work, with an additional edition of the London Intelligence being published in November.
While the London Intelligence work provided a holistic snapshot of London's new economic and societal COVID realities, our goal as researchers is to look beyond the present day and use data to better understand the medium- to long-term implications of these new trends. We did this in a published article titled Global City in a Global Pandemic: Assessing the Ongoing Impact of COVID Induced Trends on London's Economic Sectors written by myself, Mark Kleinman, Jonathan Portes and Rachel Hesketh. By identifying seven key economic trends, we found that COVID will have a inequal impact on different economic industries, negatively affecting lower-wage service sector jobs or industries that cannot adapt to government, economic and consumer changes as easily (e.g. travel, arts & entertainment, service industry, etc.). With a focus on London, we find this creates a tale of two cities. On one hand people in professional service and public administration jobs can work from home and are able to weather the economic downturn brought upon by the pandemic—some are even saving more due to reduced ability to spend. On the other hand, those in lower paying, people-facing service and administration jobs will be hard-pressed to adapt to new realities brought upon by increased restrictions or advancing technology, introducing significant economic hardship. Moving forward we are seeing this gap remain in urban societies, with fierce opposition to new lockdown rules from those in the adversely impacted areas of the economy, most notably hospitality.
The second wave will likely lead to several new implications and takeaways. For example, how can cities plan for increased social distancing if this is required into the future? Or what is the role of cycling or working-from-home in the post-pandemic work lifestyle? These questions, and many more, will need to be answered using data and should involve the stakeholder input from businesses, governments and citizens alike. Only then can we provide answers to allow for urban society to adapt to new realities and fundamentally improve the lives of our city citizenry.
As the debate around COVID's effects continue, the work we did over the summer signified why urban studies is so important. Cities are the bedrock of country-wide economies, and by using quantitative, evidence-based methods to understand how these urban networks function, we can better plan and adapt to unforeseen events like this pandemic. The research is still ongoing, and will likely never end, but as policymakers and politicians make decisions there is no doubt that urban cities are on the top of their minds, making these outputs crucial in helping create impactful policy choices moving forward.
Please click here to meet some of our CUSP London Associate and their areas of expertise Associates