Events
CUSP London hosts regular events, ranging from the CUSP London Seminar Series, PhD conferences, Data Dives, Insights and research group events to social CUSP Coffee Catchups, where our academics, students, partners and associates can drop in and meet up with each other (this is currently held online). Please do contact us to join the CUSP London Interest mailing list for updates of all events.
CUSP London Data Dive 2022 was a huge success!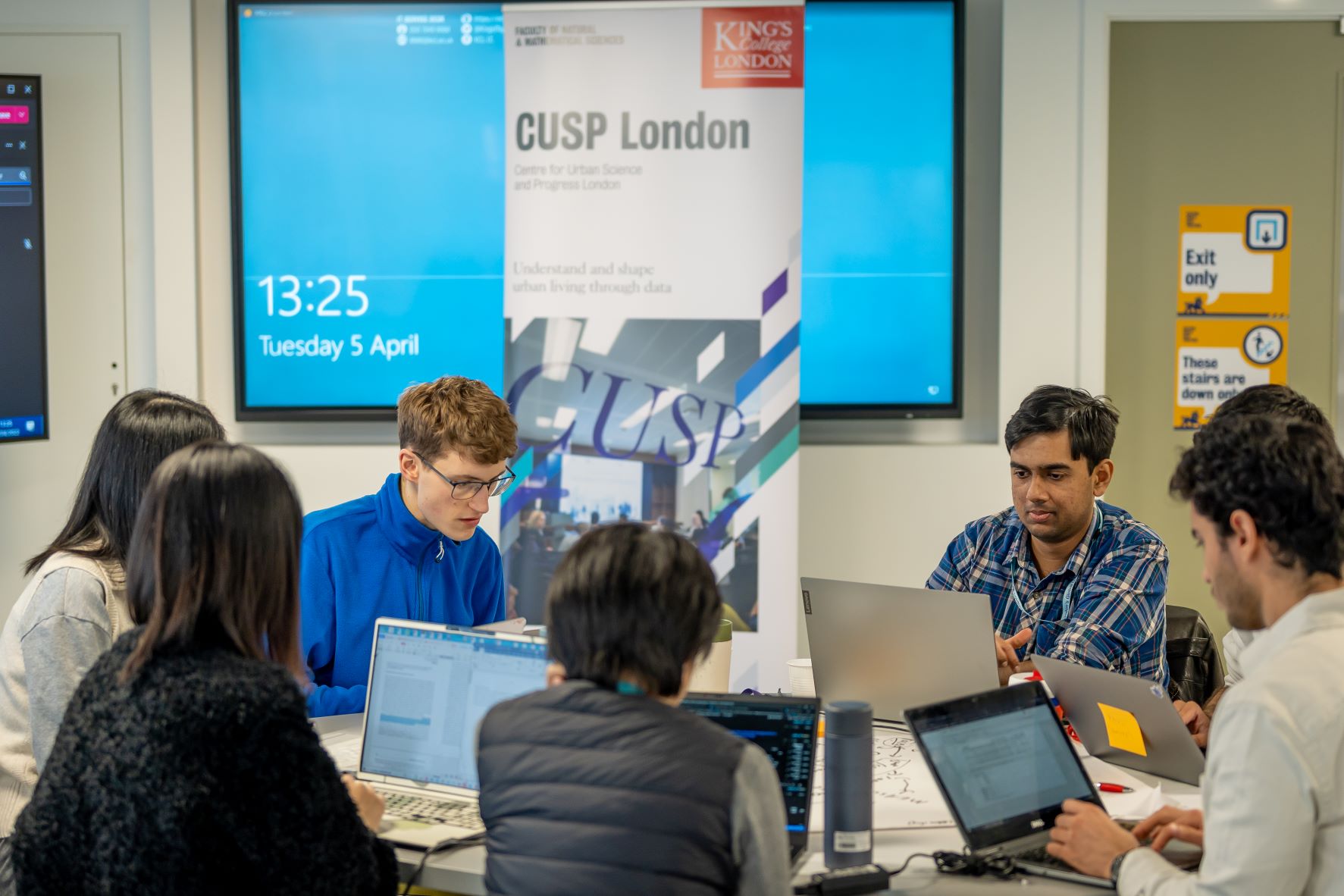 The Annual CUSP London Data Dive – Working towards Healthier Cities - was held at King's College London 4-7th April 2022, and it was the first face to face event for CUSP since the Pandemic! The whole event was very well supported, with over 50 participants from 4 different universities: King's, NYU, UCL and University of Glasgow. Our partners; Mayor's Office for Policing and Crime (MOPAC), London Ambulance Service (LAS), and an alumnus working with UKHSA, Hasnayn Yousef, were greatly appreciated guest speakers and the Mentors who assisted the groups had a wonderful mix of specialisms between them also. Many said they learned as much as they taught! The participants were asked to wrangle and understand the data structure, analyse the data and find key messages and from this, design a clear compelling data presentation for an end-user.
They were primed on the Analytics translation using our four-panel presentation methods developed by @V_KEMS which they all took on board with enthusiasm. Workshops helped the groups identify insights in Emergency Planning, Covid and Crime We were delighted with the hard work put in by all, and the quality of the results and this work will now be taken forward for further research and impact.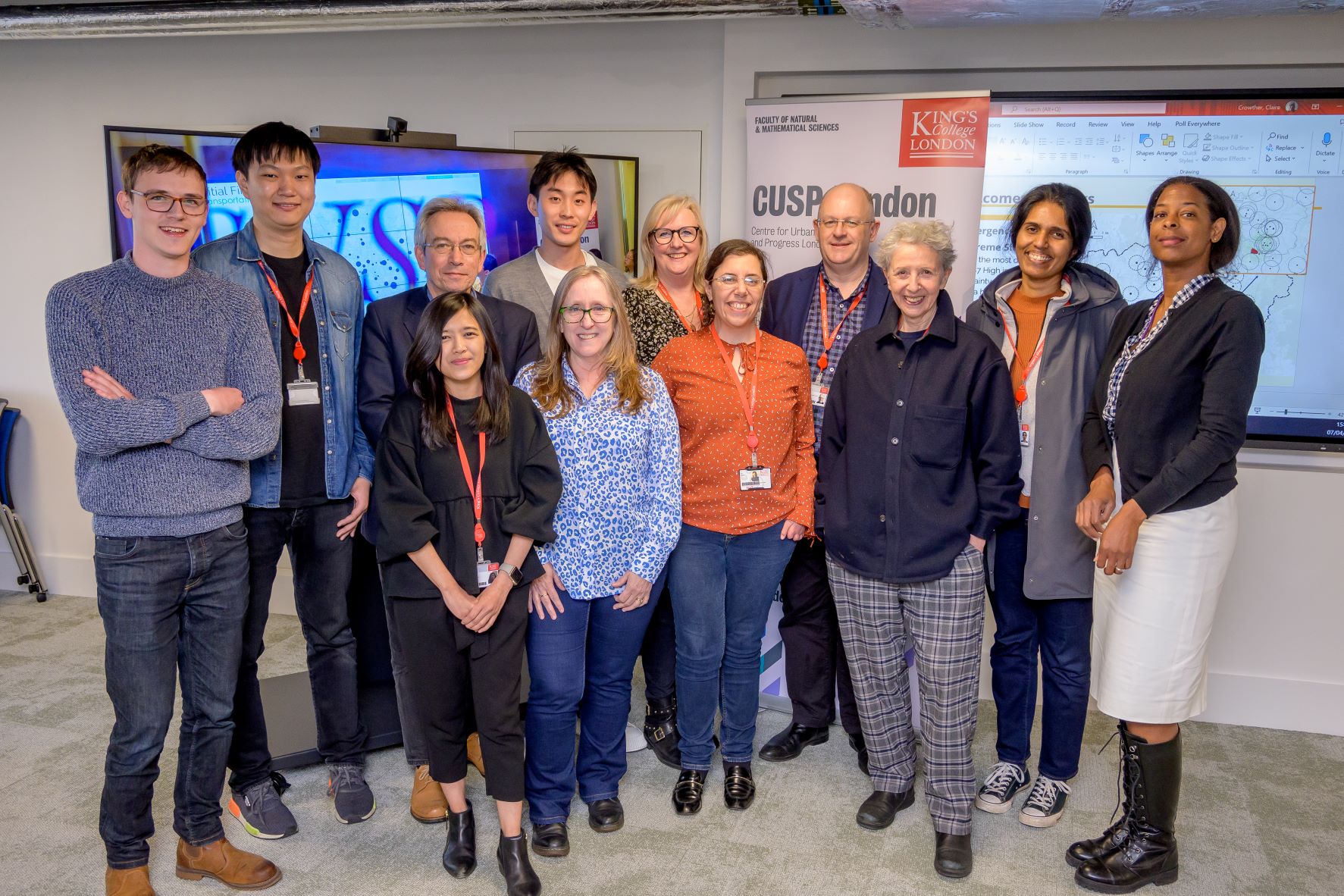 CUSP London Director's strong commitment to the London First Data for London working group has led to the London Data Charter being signed up by King's College London. The Charter will underpin a new governance model to be announced by City Hall later this year with signatories becoming part of the ecosystem. Projects already underway include helping meet London's net zero goals using data to optimise the location of Electric Vehicle infrastructure and identifying areas of digital exclusion to target resources and help. 
King's has just signed up to the London Data Charter which encourages sharing of data between organisations for the benefit of Londoners.

Arup, Bloomberg, Microsoft, Oliver Wyman Foundation and UK Power Networks have already made their commitment ahead of the launch in September at London Tech Week. Theo Blackwell, London's Chief Digital Officer has also endorsed it:     
"The London Data Charter is a critical part of the infrastructure needed to realise the Mayor's ambition of unlocking data to meet the capital's biggest challenges. Signatories to the Charter create a community of data experts and data owners who London's government will consult and work with on new data collaborations that benefit London and Londoners."
Please click the link to find out more about CUSP London News and Events News
Upcoming seminars
All our seminars are currently being held online, but we hope to resume face to face seminars in January 2022. Please do join us, and feel free to pass the details on to any friends and colleagues you feel may be interested. The Seminars in the UK are around 30 minutes each, followed by a Question and Answer session.
The CUSP NYU Seminars are a similar format, set out in a "lunch conversation" style session.
Please click here to watch the recordings for seminars previously delivered.
To join our mailing list and receive details on how to attend these seminars, please contact cusp-london@kcl.ac.uk
| Date | Speaker | Title | Recording |
| --- | --- | --- | --- |
| 15th June 2022 | Jim Webber | A Humane Overview of Knowledge Graphs and Graph Data Science |   |
| 30th June 2022 | Arzu Cöltekin | Rethinking our relationshipo with space: Modern forms of representation and spatial cognition |   |
The 2021 CUSP London PhD Conference was a huge success!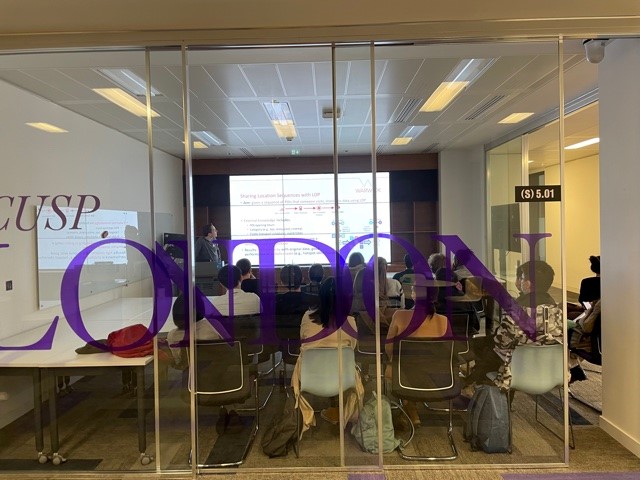 We had PhD's present their work from King's College London, University of Warwick, University College London, The London School of Hygiene and Tropical Medicine and Imperial College London. It was wonderful to have the opportunity to meet face to face again - Plus the networking opportunities with PhD peers and our CUSP London academics were amazingly successful. Thank you all for helping make it such an engaging event.
CUSP London Showcase 2019-2020-2021

The Showcase was a wonderful event which enabled CUSP London Students to present their dissertation work to our Academics, Partners and Associates. There was much interest in the subjects and we have some exciting work ahead leading to real impact in London!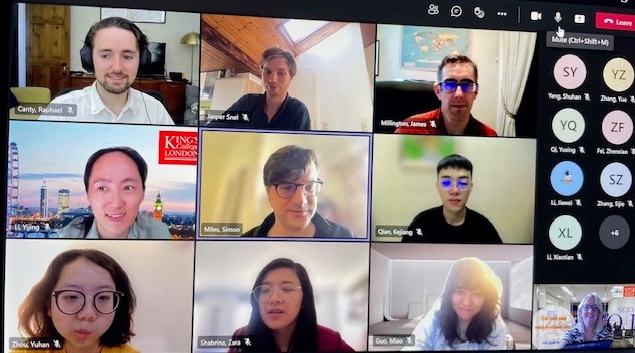 Showcase videos in 2019/20 and 2020/21 could be found here Showcase videos
Please see further research carried out here research page