Events
CUSP London hosts regular events, ranging from the CUSP London Seminar Series, PhD conferences, Data Dives, Insights and research group events to social CUSP Coffee Catchups, where our academics, students, partners and associates can drop in and meet up with each other (this is currently held online). Please do contact us to join the CUSP London Interest mailing list for updates of all events.
Please click the link to find out more about CUSP London News and Events News
Upcoming seminars
All our seminars are currently being held online. Please do join us, and feel free to pass the details on to any friends and colleagues you feel may be interested. The Seminars in the UK are around 30 minutes each, followed by a Question and Answer session.
The CUSP NYU Seminars are a similar format, set out in a "lunch conversation" style session.
Please scroll down to find the recordings for seminars previously delivered.
To join our mailing list and receive details on how to attend these seminars, please contact cusp-london@kcl.ac.uk
| Date | Speaker | Organisation | Recording |
| --- | --- | --- | --- |
| 27th July 2021 2pm | Shengjie Lai | WorldPop, University of Southampton |   |
| 28th July 4pm | Neil Kleiman | CUSP NYU Series - How did I get here? |   |
| 4th August 2021 4pm | Eric Corbett | CUSP NYU Series - How did I get here? |   |
Past seminars
| Date | Speaker | Organisation | Recording |
| --- | --- | --- | --- |
| 21st July 2021 4pm | Ravi Shroff | CUSP NYU Series - How did I get here? |   |
| 14th July 2021 5pm | Yury Dvorkin | CUSP NYU Series - How did I get here? | Watch the Recording Here |
| 7th July 2021 2pm | Scott Caine | RunFriendly | Watch the Recording Here |
| 7th July 2021 4pm | Neve O'Clery | Triumph of the City (ToC) Research Seminar |   |
| 30th June 2021 4pm | Thayer Alshaabi | Triumph of the City (ToC) Research Seminar |   |
| 30th June 2021 5pm | Debra Laefer | CUSP NYU Series - How did I get here? | Watch the Recording Here |
| 23rd June 2021 2pm | David Hunter | David Hunter Design | Watch the Recording Here |
| 23rd June 2021 5pm | Victoria Alsina Burgues | CUSP NYU Series - How did I get here? | Watch the Recording Here |
| 16th June 2021 2pm | Jali Packer | University of Cambridge | Watch the Recording Here |
| 16th June 2021 4pm | John D Eastwood | Triumph of the City (ToC) Research Seminar |   |
| 9th June 2021 4pm | Rikesh Shah | Triumph of the City (ToC) Research Seminar |   |
| 9th June 2021 5pm | Juan Bello | CUSP NYU Series - How did I get here? | Watch the Recording Here |
| 26th May 2021 2pm | Sophie Johnson | Westminster City Council | Watch the Recording Here |
| 12th May 2021 2pm | Jonathan Reades | CASA, UCL | Watch the Recording Here |
| 28th April 2021 2pm | Katharine Willis | University of Plymouth | Watch the Recording Here |
| 28th April 2021 4pm | Colin Ellard | Triumph of the City (ToC) Research Seminar | Watch the Recording Here |
| 21st April 2021 4pm | Seth G Benzell | Triumph of the City (TOC) Research Seminar | Watch the Recording Here |
| 21st April 2021 4pm | Ravi Shroff | CUSP NYU Series - How did I get here? | Watch the Recording Here |
| 14th April 2021 5pm BST | Benedetta Piantella | CUSP NYU Series - How did I get here? | Watch the Recording Here |
| 31st March 2021 | Maurizio Porfiri | CUSP NYU Series - How did I get here? | Watch the Recording Here |
| 24th March 2021 | Victoria Alsina Burgues | CUSP NYU Series - How did I get here? | Watch the Recording Here |
| 7th April 2021 | Ludovic Righetti | CUSP NYU Series - How did I get here? | Watch the Recording Here |
| 26th November 2020 12pm | Joanna S Kao | Financial Times |   |
| 19th November 2020 12pm | Camilla Siggaard Andersen | Arup Digital Studio |   |
| 12th November 2020 12pm | Menna El-Assady | Konstanz University |   |
| 29th 2020 October 12pm | Dr Matt Thomas | British Red Cross |   |
| 29th 2020 September 4pm | Aoife Hunt, Steve Gwynne and Pete Thompson @ Movement | Social Distancing & Designing for Life | Watch the recording Here |
| 4th 2020 August 4pm | Erika Brodnock | Use of AI in perinatal mental wellbeing |   |
| 15th 2020 July | Toby Thornton | Future of Mobility Sprint | Watch the Recording Here |
| 7 July 2020 4pm | Moritz Godel | Future Cities | Watch the Recording Here |
| 30 June 2020 4pm | Surayyn Uthaya Selvan | Dynamic Urban Nodes Emotion Simulator | Watch the recording Here |
| 26 June 2020 4pm | Mike Batty | The New Normal: Embedding Social Distancing into Urban Models | Watch the recording Here |
| 23 June 2020 4pm | Shane Mitchell | The future of work, and implications for organisations, cities and local communities | Watch the recording Here |
| 17 June 2020 4pm | Alison Heppenstall | Building cities from slime mould, agents and quantum field theory | Watch the recording Here |
| 16 June 2020 4pm | Jali Packer | Personality, Perception and Place | Watch the recording Here |
| 9 June 2020 4pm | Vishal Kumar | Data Science for Arts and Culture | Watch the recording Here |
| 2 June 2020 4pm | Joanna Kusiak | PropTech for the Public Good |   |
| 28th May 2020 10am | Karl Roberts, James Slessor, Paul Dawson, Lawrence Sherman | Crime and Policing Post COVID-19 Webinar | Watch the recording Here |
| 26 May 2020 4pm | David Hunter | Data Walking Project | Watch the recording Here |
| 19 May 2020 4pm | Giovanni Quattrone | Social Interactions or Business Transactions? What customer reviews disclose about Airbnb marketplace | Watch the recording Here |
| 12 May 2020 4pm | Anant Jani | Mapping interventions to address social factors related to health | Watch the recording Here |
| 5 May 2020 4pm | Toby Thornton | Developing the first Future Mobility Zones in the UK | Watch the recording Here |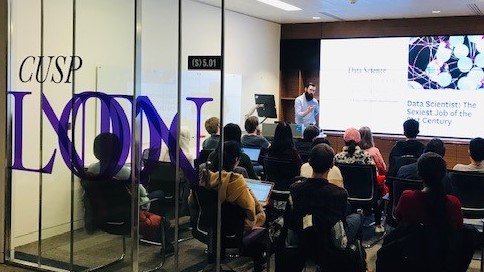 Please see further research carried out here research page